Don't wait until the New Year to make your resolution. When Ontario's pandemic lockdown (2.0) begins on Boxing Day, let's all make a pledge to push through one more time with grit, grace and gratitude.
If 2020 had to be described in an emoji, bet you we'd all choose the same one. (We'll give you a hint: it's brown.) And here in the great Canadian wilderness north of Toronto, just when we thought we might take a break to enjoy the festive season – BAM!  Another province-wide shutdown was announced and the potential for merry-making sank like a giant, inflated reindeer after a snow storm.
Well, ain't that a kick in the ornaments.
It disheartening, it's mentally exhausting, it's frustrating and it's seriously, seriously cramping our merry-making style. We're all tired of this [insert brown emoji]. But here's the thing: this isn't our first lockdown rodeo, and we all know what we've got to do. So read on for some inspiration from the past few months to help us with our lockdown resolve:
Grit & Bear It
At Explorers' Edge, we serve approximately 1700 tourism small businesses across our region (in Algonquin Park, Almaguin Highlands, Loring-Restoule, Muskoka, Parry Sound and South Algonquin) whose lives were completely turned upside down in March and who, to this day, endure constant stress; not just about their livelihoods, but about their staff's employment and safety, their patrons/guests' safety and satisfaction, and about the safety of the communities we all call home.
Some of these businesses (live music and events in particular) were never able to open and have remained shuttered since the early spring. Some were able to 'pivot' to other areas to help them survive. Some accessed government funding, some were excluded. They all dealt with a banker or two. Some closed their doors forever and, wondrously, some were able to thrive (golf is BACK baby!!). And all of this matters in a region that relies on tourism for employment and economic development more than any other in Ontario.
Here's what we learned about these fine folks.
These small tourism businesses – their owners and staff – took the (massive) moose by the horns, dragged it through the vast uncertainty and confusion of the earlier lockdown, and they set the benchmarks for safety and service in a Covid world. They literally did everything they could to keep everyone safe and happy, and their efforts can't be understated.
This Boxing Day, they've been told to close again, which is particularly hard for those enduring these measures for the second time, but also incredibly disheartening for our winter operators who were just about to get going.
But guess what?
Now they've got the know-how and expertise; they've got the seasoned grit and determination needed to continue onward; and they believe in the power of travel to transform lives – yours, ours and theirs. So just you watch: they'll slap that dopey moose on the butt, get another grip on the horns, and drag it once again (this time over the frozen hockey pond).
To all who work in the regional tourism industry, you have our enormous and humble respect.
Grace & Will
If tourism businesses were grappling with a moose, local residents here encountered an elephant in the room (or in the woods, as the case may be).
Turns out lockdowns throw everyone into a tizzy (who knew?!), and when you live in a region that is home to both permanent and seasonal households, it's not unexpected that some nerves among neighours might occur. But something really cool happened too.
Starting in June, when the province re-opened, a new type of traveler stood out in this story. 'Backyard tourists' became the region's heroes, as they stuck closer to home and patronized places they'd perhaps never visited before. Suddenly, it didn't matter if you were a local or a cottager, we were all tourists  in our own backyards now.
New favourite shops and restaurants were discovered, mini overnights to resorts not far away were booked, and neighbours showed businesses their "Cottage Country Spirit" over and over again (particularly those who claimed one of 5500 local travel voucher packages from Explorers' Edge to spend). As one nice fellow said to us in email: "We…discovered several new businesses, which we will regularly patronize from now on. Every business…was most welcoming."
Thank you to everyone who was willing to stick closer to home and become a backyard tourist in 2020, and to everyone who remained gracious despite the challenging times.
The Gratitude Attitude
For lockdown 2.0, no one who lives here can fail to recognize how fortunate we are in one sense. If we have to shrink our bubbles again and if we have to isolate once more to 'get the numbers' down, then there's no better place to play that numbers game.
We're thankful for winter forests and outdoor rinks; for heated patios and bonfire pits; for stars at night and fresh, pristine snow in the morning.
And we're grateful we can get out to experience it all over the next few weeks, as nothing is better for physical and mental well being in these stressful times than the great outdoors.
Don't get us wrong; make a New Year's resolution if you'd like (some of us still need to lose that first round of Covid weight, after all…).
But this Boxing Day, let's also make a resolution to embrace

#gritgraceandgratitude

so the pandemic doesn't get us down. Let's grab some take-out and ditch that lockdown frown. Keep well, everyone!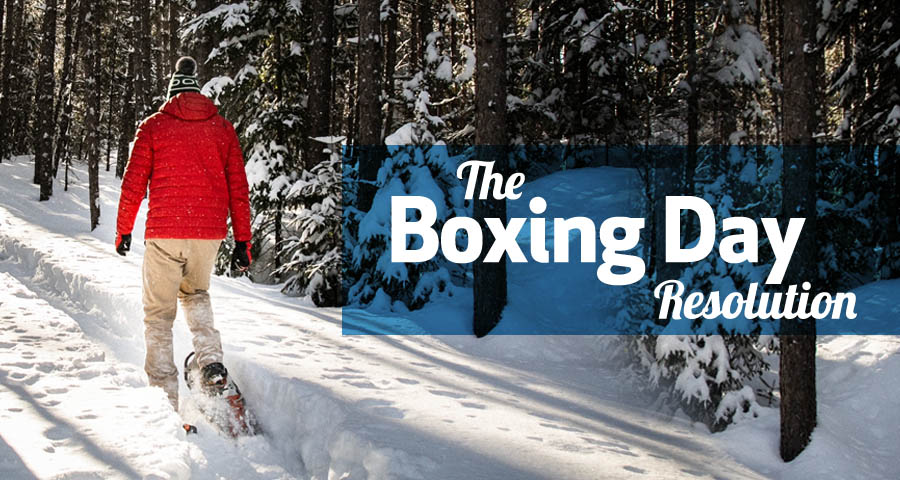 Cheeky monkey loading up a snowball photo by Tamara Matthews, Bain Lake Camp.
Outdoor hockey photo by @jana_b_ananas on Instagram.