If you want to take your photography skills to the next level, there's nothing that'll inspire you more than the stunning landscapes, waters, skies, flora and fauna in the great Canadian wilderness. And what better way to improve than by participating in one of many fantastic workshops being offered in the region by some of the best professional photographers around?
The Algonquin Wildlife Research Station (AWRS) in Algonquin Park has been conducting important educational experiences and research for 70 years, including photography workshops which teach participants about their subjects. For these folks, "understanding an animal's ecology, biology and behaviour will put you in the right place at the right time for spectacular encounters with wildlife."  For some examples, drawn from the AWRS's photo competition, click here.
For the spring and summer schedule of the AWRS's Beginners Adventure in Wildlife Photography, led by renowned naturalist, expedition guide and photographer Robin Tapley in partnership with Tim Winegard and Jamie Giardini, click here.
Always wanted to capture an epic image of an iconic moose?  Chances are you'll finally do so if you join Voyageur Quest's Algonquin Moose Photography Safari. Open to beginner and advanced shutterbugs alike, this June workshop takes you into the north-west corner of Algonquin Park for canoeing, as well as a one-night stay at a heritage log cabin and a second night camping. The trip includes forays into spots where moose hang out, resulting in excellent photographic opportunities.
The Algonquin Moose Photography Safari is led by award-winning wildlife photographer Rob Stimpson (check out his work here).  For those who plan way ahead, Rob is also offering a one-day fall foliage workshop in Algonquin Park this October.  See his full 2015 schedule here.
Ever wondered how to capture the brilliant night sky (a regular feature when you look upwards in the great Canadian wilderness)?
Photographer Wesley Liikane, also known as "Cowboy With A Camera,"  will be teaching multiple techniques for dark sky photography, including setup, camera settings, post-processing and more. Learn to capture starscapes, the Milky Way, aurora borealis and objects in deep space—so as to create amazing night sky images like his (click here).
Wesley will be leading three workshops in Algonquin Park on June 12-14, 17-19 and Sept. 4-6—all dates when the moon will not be out for all or most of the night.  The experience includes food and accommodation at the Mad Musher Restaurant and Riverside Rooms on the east side of Algonquin Park, as well as a tour and photo opportunities of the Algonquin Radio Observatory, Canada's largest radio telescope.  More details here.
If you're interested in a one-on-one photo workshop in Muskoka, photographer Paul Bennett offers customized one-on-one experiences, geared to whatever you want to photograph, including two hours out shooting and two more in the classroom. (See his Muskoka landscapes here.)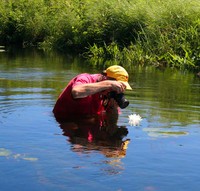 Photographer Andy Zeltkalns from Muskoka (see his work here) also offers early morning outdoor workshops (to catch that magical dawn light), supplemented by an indoor session. Dates and times are TBA, so check his website or email him.  For more details, click here.
Also very popular are the Algonquin Park Photography Tours with Michael Bertelsen (see schedule here) Read about some of his expert photo tips.
Plan your getaway to the great Canadian wilderness and take your wilderness photos to a whole new level – with a little help from the professionals.  For more information on the region, click here. (And please do share your photos of the region on our Facebook page.)
Guest Blogger: Karen Wehrstein
A resident of Muskoka, Karen Wehrstein is a freelance writer and published novelist whose work has appeared in the National Post, Montreal Gazette, as well as Muskoka Magazine, What's Up Muskoka and other regional publications. She lives on thirty acres of beautiful forest near Lake of Bays.