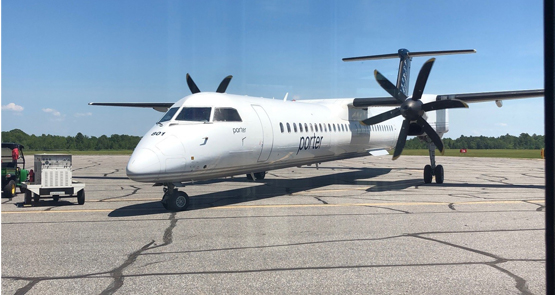 RTO12's Commercial Air Strategy Evolves with Porter Airline's Route Discontinuation
FOR IMMEDIATE RELEASE
RTO12's Commercial Air Strategy Evolves with Porter Airline's Route Discontinuation
Two successful seasons of attracting international visitors provides intelligence for expansion.
(Bracebridge, Ontario…January 11, 2023)…In early January of 2023, Porter Airlines informed RTO12 and the Muskoka District Airport that the company will no longer run its seasonal summer route into CYQA, said James Murphy, CEO of RTO12, today.
"This is a business decision on Porter's part," said Murphy, "and we appreciate the advanced notice of this development."
Murphy noted that the marathon strategy to attract commercial air service into the Muskoka Airport began in 2016, when the District of Muskoka Planning & Economic Development Committee, the Town of Gravenhurst and FedNor partnered with RTO12 on a series of international market segments research, as well as on the feasibility study for securing Canadian Air Transport Security Authority (CATSA) screening at the airport – a key requirement to introducing commercial service; the latter was achieved for the first time with the passing of Bill C49, the Transportation Modernization Act of 2018.
"RTO12 took the lead in building the business case to work with CATSA and to attract an airline; we were successful in partnering with Porter and the District of Muskoka to launch the summer route in 2019, and again in 2022, after the hiatus of the pandemic-imposed restrictions," said Murphy. "Our own objective all along has been to increase international visitors to the region, because they stay longer and spend more. Commercial air service also allows us to be competitive with urban tourism destinations, such as Ottawa, Toronto and Niagara Falls."
Murphy said that two years of collecting data from all the Porter flights, of marketing the route locally, domestically and internationally, and of the RTO12 team being on the ground at the airport for every arrival and departure have resulted in an incredible wealth of data that will allow for an even more detailed and compelling business case to share with additional carriers.
"At the time we partnered with Porter, we were an untested airport and destination for the aviation industry, and our business case was built on projections," he said. "Now we have solid data and experience for building scheduled service at the airport, including successfully increasing the number of international visitors in 2022 over the inaugural season. Our team also facilitated the selling of packages that featured a flight and experience combination, and we're pleased to have sold almost 500 of these to inbound and outbound travelers over 2019 and 2022. We further ran the important shuttle service in and out of the airport to disperse travelers across the entire region we represent – not just Muskoka. These initiatives definitely set us up for even greater success moving forward."
Murphy expressed gratitude to Porter Airlines for what basically amounted to "coaching the rookies."
"We have nothing but great things to say about our colleagues at Porter Airlines, and we are very appreciative of everything we learned while working with them. We wish them great success as they build their Embraer service out of Pearson International Airport."
Murphy also expressed his thanks to everyone who made commercial air service a success at the airport.
"Our team has worked with a lot of people at the District of Muskoka and at the airport since our first deputation to the Planning & Economic Development Committee in 2015. On behalf of the RTO12 Board of Directors and myself, I extend our thanks to everyone and, in particular, to Len O'Connor, CEO of the Muskoka Airport. We look forward to continuing to build commercial air service together for the economic development of our local communities."
"Porter has appreciated working with local tourism and airport partners to promote Muskoka over the years," said Brad Cicero, director, communications and public affairs, Porter Airlines. "Our joint efforts have contributed to generating broader interest in the region that we hope will have long-term benefits for the community."
"Muskoka continues to be a popular destination for both business and leisure passengers," said Len O'Connor. "Scheduled service in Muskoka has proven to be successful – the Porter Airline service offered many opportunities to enhance operations and we are looking forward to what the future brings."
James Murphy added that commercial air service will remain part of a greater transportation focus for RTO12, which was identified in the organization's 2018 Product Development Framework.

About Explorers' Edge:
RTO12 is the regional tourism organization for Algonquin Park, the Almaguin Highlands, Loring-Restoule, west Parry Sound district, Muskoka and South Algonquin that is funded by the Ontario Ministry of Tourism, Culture & Sport. The incorporated not-for-profit is governed by a volunteer Board of Directors and serves regional tourism stakeholders and local communities through its Regenerative Tourism Strategy. The company is also known by its consumer-facing name, Explorers' Edge.
-30-
For RTO12/Explorers' Edge inquiries please contact:
Kate Monk
Vice President, Strategy & Corporate Programs
Explorers' Edge/RTO12
Email: [email protected]

For Porter Airlines inquiries please contact: [email protected]
For Muskoka Airport inquiries please contact:
Len O'Connor, CEO
[email protected]