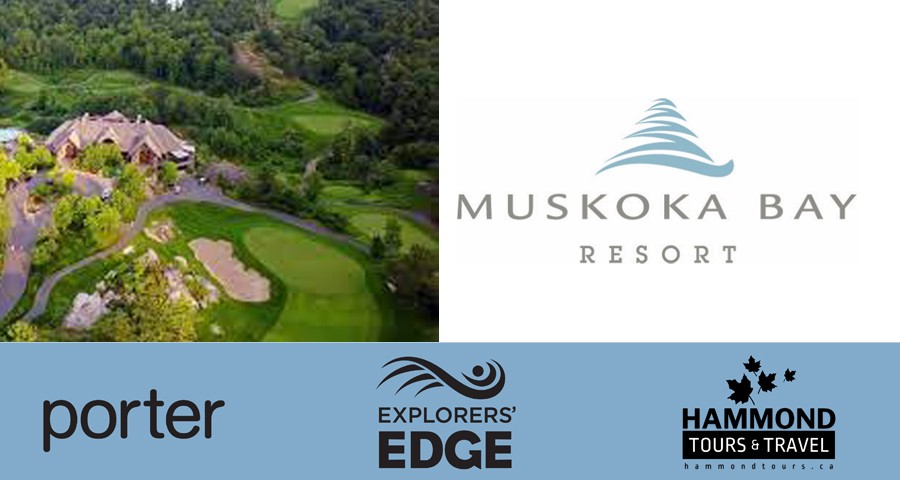 Muskoka Bay Resort Golf Getaway
Fly Toronto to Muskoka for a Golf Getaway at Muskoka Bay Resort!
Amidst the wetlands and rocky ridges of the Canadian Shield, acclaimed golf course architect Doug Carrick designed a course with dramatic elevation changes, rolling fairways, and pristine greens. The result is a championship course that is challenging, yet player friendly.
Fly Porter from Billy Bishop Toronto to Muskoka and play 27 holes over two days over the span of 24 hours while enjoying all the amenities and dining at the Muskoka Bay Resort.
Foursome Golf Package:
Flight to Muskoka via Porter Airlines
9 holes of Golf Monday night
4 Bedroom Villa at Muskoka Bay Club
18 holes of Golf Tuesday
Return trip to Toronto via Hammond Tuesday night
Available Dates:
Monday August 22 – Tuesday August 23, 2022
Monday August 29 – Tuesday August 30, 2022
$600.00 per person (pricing based on a party of four) all applicable taxes and fees
Please contact Kelley at 705-730-3985 or [email protected] to reserve your spot.
Package is being sold by Muskoka Tours & Travel TICO#50026098

Billy Bishop Airport (via Porter Airlines)
Location: 2 Eireann Quay, Toronto, ON M5V 1A1
Arrival Time: please arrive 60-90 minutes prior to departure
Flight: 14.25 – 15.05 (2.25pm – 3.05pm)
Baggage Allowance: 1 standard, 40x23x5cm (20lbs, 9kg), 1 personal: 43x16x33cm (20lbs, 9kg),
Additional: Golf equipment is accepted as one piece of checked baggage. The oversized fee will not be charged for a golf bag; however, if your golf bag weighs more than 23 kg (50 lb)23 kilograms or 50 pounds, an overweight fee will apply.
Your golf bag is permitted to contain no more than: 14 clubs, 12 golf balls, one pair of golf shoes. If you check a golf umbrella separately, it will count as an additional item of checked baggage.
How to pack: All golf equipment must be appropriately packed in a rigid and/or hard shell container designed for shipping. If improperly packaged, your equipment may be refused for carriage.
Valid photo identification for the flight portion
Muskoka Bay Club
Location: 1217 N Muldrew Lake Rd, Gravenhurst, ON P1P 1T9
Accommodation: 4 Bedroom Villa at Muskoka Bay Club
Golf: 9 holes Monday night & 18 holes Tuesday morning
SPECIFIC GOLF TIMES TO BE DISCUSSED ONCE BOOKED
Return Busing
Afternoon / Evening: Bus will depart from Muskoka Bay Club one hour after the golf returning to Billy Bishop Airport.