The 'Fly & Explore Package' from Explorers' Edge for Domestic and International Guests
As announced early last week, Porter Airlines and RTO12 will be introducing summer seasonal service into the Muskoka Airport (YQA) for the summer of 2019! 
To compliment this service, the popular "Fuel & Fun Package" has been re-developed to incentivize domestic and international travelers to book a flight on the new Porter Airlines service to Muskoka during the 2019 flying season from June 27 to September 3, running Mondays and Thursdays (except on long holiday weekends, when the service will run Tuesday instead of Monday). 
The new edition of this transacting program is called "The Fly & Explore Package"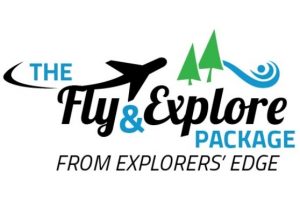 The Fly & Explore Package will encourage 
commercial air service travelers 
to book a minimum two-night stay with participating Accommodation Providers, and for them to additionally visit regional Experience Providers (attractions, dining establishments, etc.) during their stay.
Specifically, the incentive refers to 4 x $25 Experience Vouchers ($100 CDN total) to be used "same as cash" and honoured by participating Experience Providers. These vouchers will be provided to participating Accommodations Providers to distribute to COMMERCIAL AIR SERVICE PASSENGER GUESTS ONLY who book for a minimum 2-nights's stay between June 27 and September 3, 2019, which must be booked between April 8 and August 28, 2019. They must also register for the package on the Great Canadian Wilderness website with both their flight confirmation number and their accommodation confirmation number. (Please be explicit in explaining this to potential guests – that this is for guests using the flight service only.)
To participate in this program and to have your business listed in promotional materials for it, please complete and return one of the following by  Monday, April 8 at noon to [email protected]. 
Promotion of this program will begin on April 8.